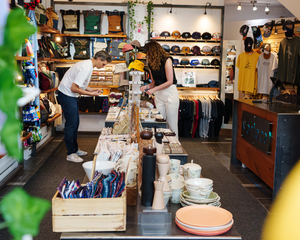 Arloca in a few words
Arloca is a Quebec family business.
Born from a passion for customer service and the desire to offer beautiful products that correspond to our values.
- 100 % Local Manufacturing : Montreal - Quebec - Canada
- Respect for ethical and eco-responsible values
- A keen interest in the know-how of local creators

Behind each product is a story, a desire to offer you the best of local know-how.
By purchasing an item from arloca, you are encouraging local know-how and the local economy.


I love it! Beautiful quality products, all Canadian. The prices are very reasonable! Perfect as a gift shop or for ourselves. Take a look around when you visit
Audrée Leboeuf
Superb shop with great local products! The team is fantastic. To be encouraged without further delay! Whether it's for decoration, gift ideas or any other local handicrafts, I recommend it!
Valentin Verrier
Super shop of artisanal products. Excellent service too, very friendly!
Romane Lalonde
Contact Us
6572 St-Hubert Street
Montreal Qc Canada
514-379 6527
Monday: 10am to 6pm
Tuesday: 10am to 6pm
Wednesday: 10am to 6pm
Thursday: 10am to 7pm
Friday: 10am to 7pm
Saturday: 10am to 5pm
Sunday: 11am to 5pm